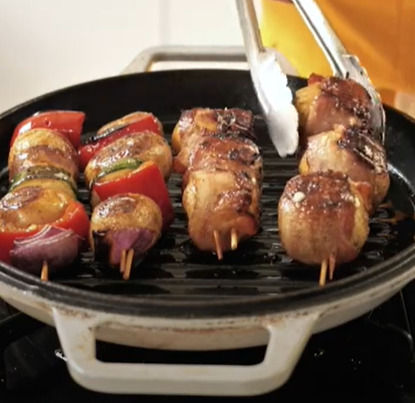 Smash Em's Skewers, Two Ways
Preparation Time:

30 minutes

Cooking Time:

15 minutes

Servings:

6-8

Total Time:

45 minutes
Recipe Details and Method
1 bag (1 kg) Caramelized Onion & Roasted Garlic Smash Em's
9 slices bacon, cut in half crosswise
6 1/2-inch (1.25 cm) slices zucchini
6 large mushrooms
1/2  of a medium red bell pepper cut into 6 square shapes
1 small red onion, cut into 6 wedges and separated into 2 portions each
olive oil as needed
Salt and pepper
Sour cream or ranch dressing for serving, as desired
Chopped parsley for garnishing if desired
12 x 8-inch (20 cm) wooden skewers, soaked in water for at least an hour, or 12 metal skewers
Before you start, count your potatoes. One bag of Smash Em's generally contains 28-30 potatoes. For this recipe, you'll need 18 potatoes for the bacon skewers and 12 for the vegetable skewers. If there are not 30 pieces in total, cut some of the larger potatoes in half.
For the bacon wrapped potato skewers, roll one piece of bacon around 18 of the Smash Em's and thread three of the potatoes onto each of the six skewers.
For the vegetable skewers, skewer in this order: 1 portion red onion, 1 piece red pepper, 1 potato, 1 piece zucchini, 1 mushroom, 1 portion red onion, 1 potato. Brush liberally with oil and season with salt and pepper.
Heat your barbecue to medium, or heat a grill pan over medium high heat. If using a barbecue, tear off and fold in half lengthwise one or two pieces of foil that are long enough to place under the exposed part of the skewers to prevent them from burning. Place the skewers on the grill and cook, rotating as necessary until the vegetables are cooked through and the bacon is crisp. Serve with dip and sprinkle with parsley as desired.